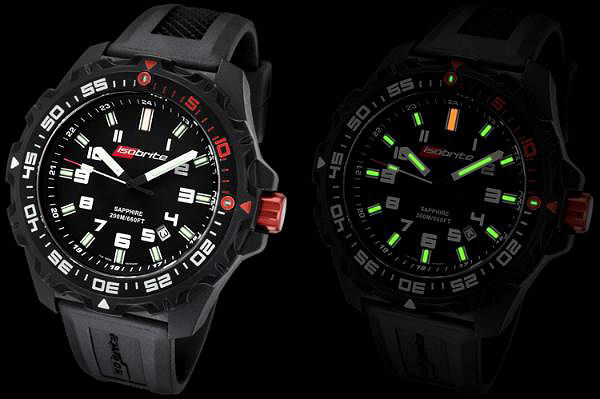 Isobrite is the world's first T100 tritium illuminated lightweight polycarbon watch. The watch features a 10-year battery life, ultra scratch resistant sapphire crystal, two tritium markers on the unidirectional bezel, and 200m (20 atm / 660 feet) water resistance.

    Unlike ordinary tritium watches that use T25 tritium illumination, the Isobrite watch uses ultra bright T100 tritium illumination. This makes it 4 times brighter than the competition! The T100 tritium glass tubes are manufactured by Switzerland's mb-microtec and are currently the brightest and most advanced tritium illumination available on the planet.

    In addition, while most polycarbon watches use mineral crystals, ArmourLite made the Isobrite watch with an ultra scratch resistant sapphire crystal. Sapphire is the same crystal material used on the finest Swiss watches.

    The 47mm wide and 12mm thick case is made from a carbon reinforced poly material which is exceedingly strong while being very lightweight.  The back of the case is made of steel with four screws. The push-in crown is 4mm wide. The case also features a unidirectional ratcheting bezel with two H3 tritium illumination markers.

    The Isobrite watch features a reliable Swiss Quartz Ronda 715Li movement with a 10-year lithium battery.

    The watch comes standard with a 22mm black silicone band with the Isobrite logo. The clasp is a steel buckle with the IsoBrite logo as well.

    ArmourLite offers a 2-year international warranty on the Isobrite watch.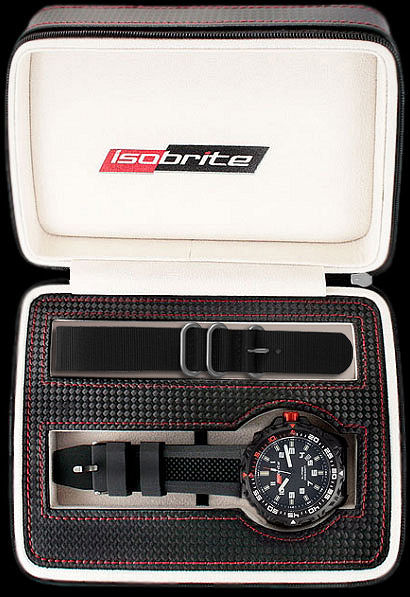 Armorlite Isobrite Specifications

Movement:  Swiss Ronda 715Li Quartz

Features: Date

Crystal: Scratch resistant sapphire crystal

Case Material:  Polycarbon

Case Color:  Black

Case Diameter: 47mm

Case Thickness: 12mm

Crown:  4mm push-down

Bezel: Unidirectional ratcheting with two H3 tritium illumination markers

Dial Color:  Black

Hands Color:  White & red seconds hand, white minute & hour hands

Numbers Color:  White

Band Material:  Silicone

Band Color: Black

Band Width:  22mm

Band Clasp: Buckle with logo

Tritium Markers:  Green and orange

Water Resistance:  200 meters (20 ATM / 660 feet)

Battery:  10 year Lithium battery

Warranty:  2 years

Extras:  Zippered travel case with extra nylon band

Maximum Wrist Circumference:  9.75